Glamis North Rates, Reservations, Resort Map


Hot Springs Day Pass:
$25 per person
Park & Ride the Trails:
$20 per vehicle
Sites & Cabins:
To get exact rates, please proceed to our reservation site, register, then select the dates you're interested in, choose your desired sites or cabins and you'll find the rates and availability of your selection without being charged. You'll never be charged until you enter your credit card information.
Save 50% on Sunday when you extend your stay by staying Sunday. Lowest prices are always available online. 
Please note that most sites and cabins rent daily Monday – Thursday, and require a minimum stay over weekends and holidays.
Our cancellation policy is simple. There's never a charge for changing reservation dates, and if you choose to not come at all, the most you'll ever pay for the cancellation is $25 if cancelled a week in advance. You'll only pay for one night if cancelled under 8 days – by noon Pacific Time on the last day.
Season
While we answer the phone year-round, our season runs from October 15 – April 15. In summer, the temperature can reach 120 degrees, so sites/cabins are not available until the weather allows for a more appealing trip!
Questions? Prefer to call for your reservation? Don't hesitate to contact us at (760) 354-1010 .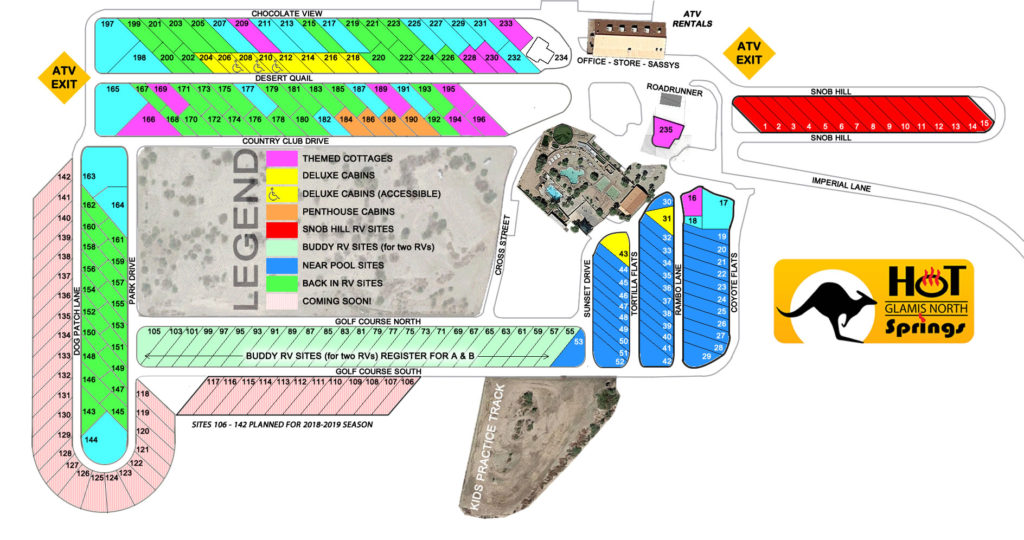 Reservation System Information
When you go to our reservation system, we ask that you log in prior to seeing site availability. We never give away or sell the information you provide. We will occasionally email our guests, but they can unsubscribe instantly – and that's likely the last you'll hear from us (unless you do business with us in the future – or your friends tell you how much fun they had here).
Recently, our registration site was used as a test bed for crooks that had stolen credit card information from other sources (not our guest's info). They test their stolen numbers by running them through sites that accept online payment. They found and used us for their devious purposes – something that can happen to any site that accepts online payments. Resolution cost us a significant amount in time and credit card fees. Again – this was not our guests information, but info they stole elsewhere.
Our registration vendor suggested we ask guests to login up front to stop this. So far, it's worked great. But we also realize it's an extra step for you, and hate that we have to do it that way. If only everyone played nice, right?
We leave our registration site open year-round because many of our guests register early, especially for Halloween, Thanksgiving, and other special holiday weekends. We often have a banner on the bottom of our main site noting that we will open again in October, so we hope that helps.
Thank you for considering Glamis North, and we hope to see you this winter!
Your Reviews