Deluxe, Penthouse & Themed Cabins
Cabins | Covered Wagon | Themed Cottages | Resort Map
Deluxe Cabins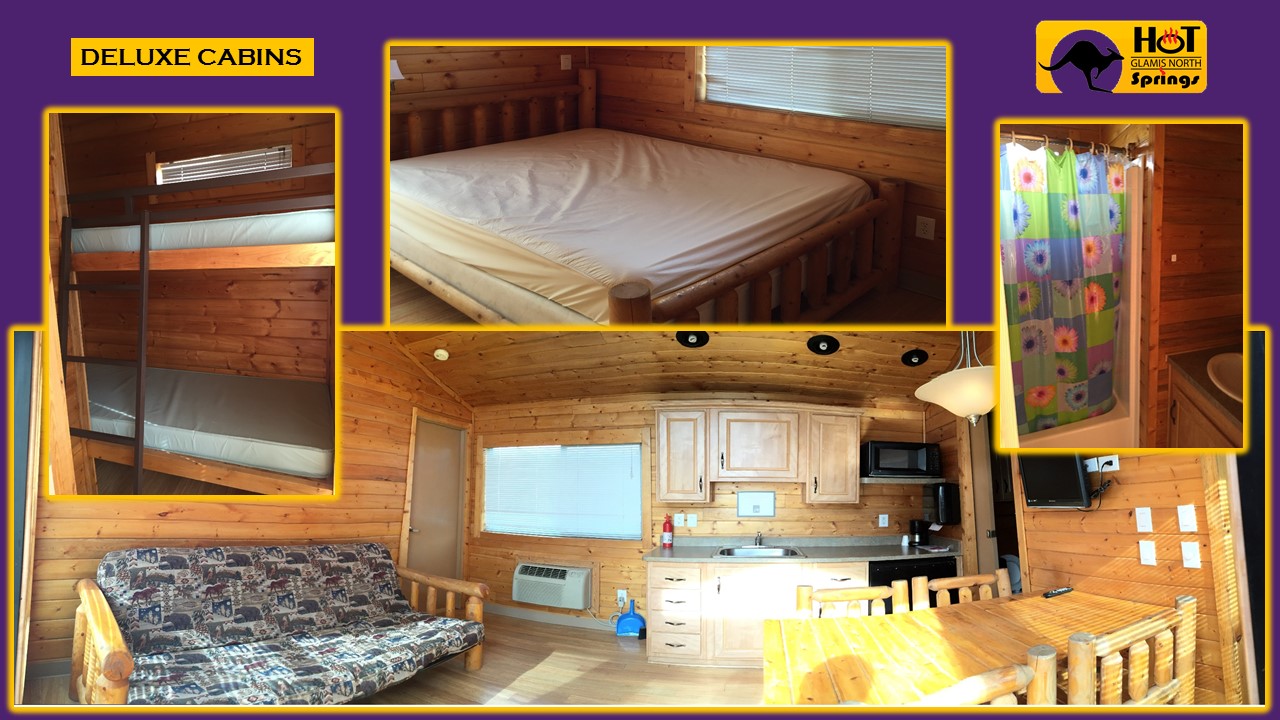 From $150+/- (weeknights) – $256 holidays*. Weekend flat rate $449
Sites – 31, 43, 204, 212, 214, 216
Site 218 includes RV site 220! Great for friends with facing patios 
Please bring your own linens for a queen, a double, 2 singles bunks, plus towels.
Add $50.00 for pets (per visit).
Fun for family and friends | Fridge | Microwave | Coffee pot | Sleeps 6
1 Queen bed, 1 Double bed, 2 Single beds

---
Penthouse Cabins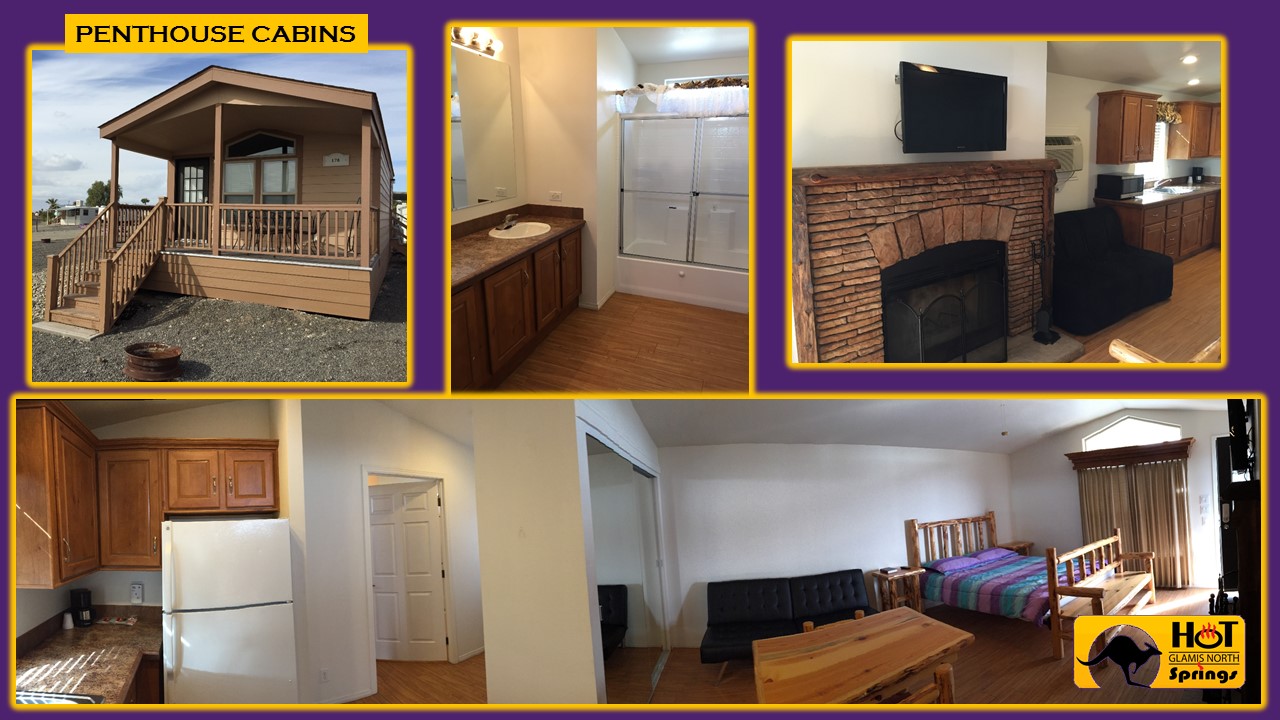 From $119 (weeknights) – $256 holidays*. Weekend flat rate $379.
Sites – 178, 184, 186, 188, 190
Please bring your own linens for a queen, a double (same room), plus towels.
Add $50.00 for pets (per visit).
Romantic and fun | Fireplace | Fridge | Microwave | Coffee pot | Sleeps 4
Queen with Fireplace at foot of the bed plus futon in same room
The Penthouse is designed for two seeking a Romantic getaway

---
Covered Wagon – Extra Room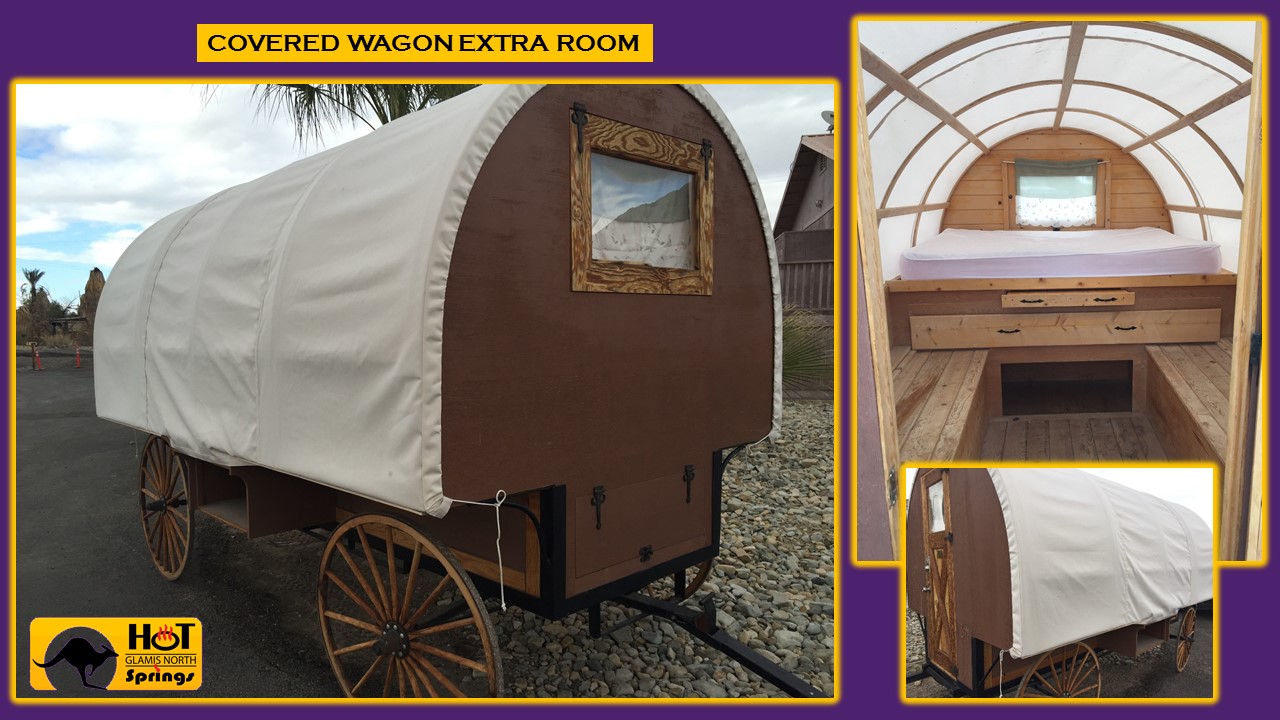 Need a Little Extra Space?
Your kids (and you!) will love the extra space our covered wagon provides. And, we'll pull it right up to your site or cabin!

---
THEMED COTTAGES
From $170+/- (weeknights) – $350+/- holidays*
16 – The Jungle Hut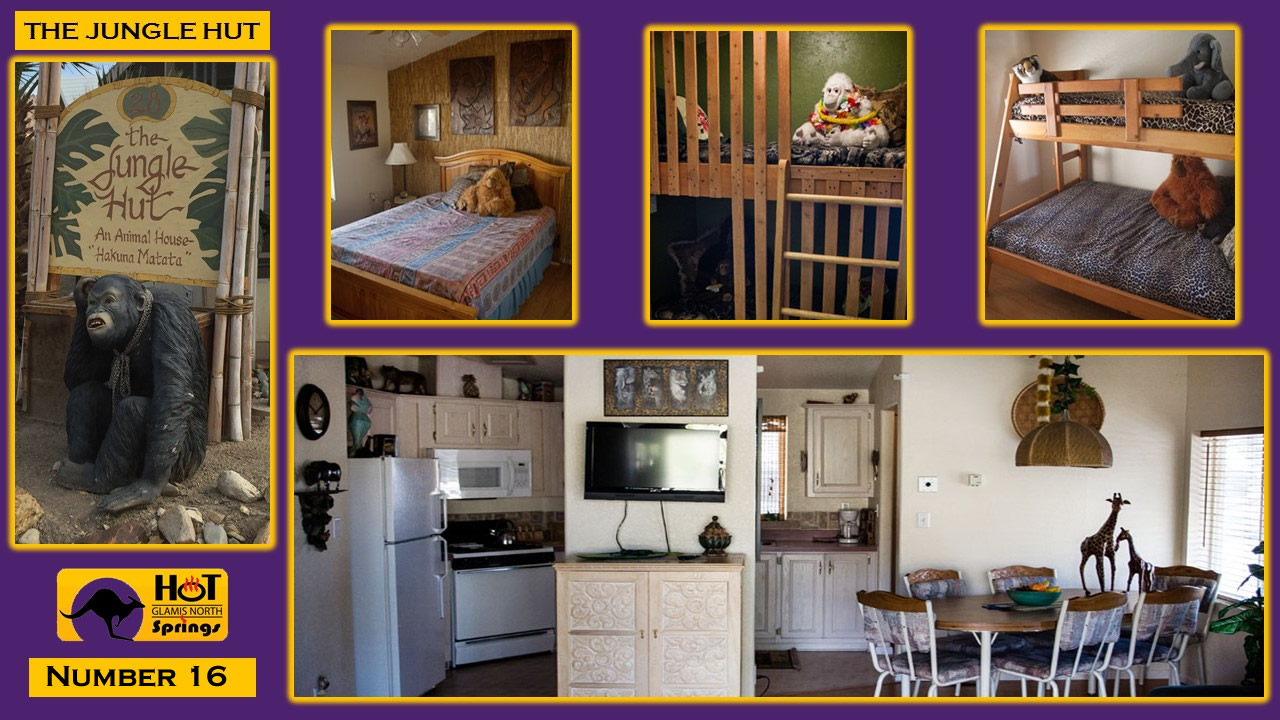 You'll Go Banana's for This Cottage!
Your very own Safari Camp that has been especially designed and decorated with an African Tribal flare, where many of the animals of the savannah and jungle are there to amuse; Lions, tigers, elephants, giraffes, rhinos, and apes.Walk on the wild side, your African Adventure in the Jungle Hut begins here
Master bedroom with a queen bed

Second bedroom with a twin over Double bed

Hide a bed sofa

two kids bunks (5')

Full bath

Full Kitchen

Cable TV

Internet access

Your own private covered deck

Sleeps up to 7 plus two small kids

Very Close to the Hot Springs
Bring Linens, pillows, Towels.

---
166 – Porcupine Lodge
Your Gateway to a National Park Experience
This lodge is set on a cozy out-of-the-way corner that attracts Wildlife and Nature Lovers with wrap-around porches and a picnic area with fire pit. Enjoy the site as your national park getaway.
You'll find this casual 2 bedroom, l bath lodge offers ample sleeping options for 8 campers which includes 2 additional small bunk beds for kids.  A full kitchen and plenty of dining space make for "beary" happy camping.
Pack in your own pillows, linens, towels and toys!
Master Bedroom (Queen)

Guest Bedroom (1 Twin over Double)

2 Sleeper Sofas (Doubles)

Love Seat Sleeper (Twin)

2 Youth Bunks (60")

Guest Bath (Tub/Shower)

Full Kitchen

TV, DVD, VCR

Heater, A/C

Covered Porches (1 screened)

Carport

---
169 – The Oasis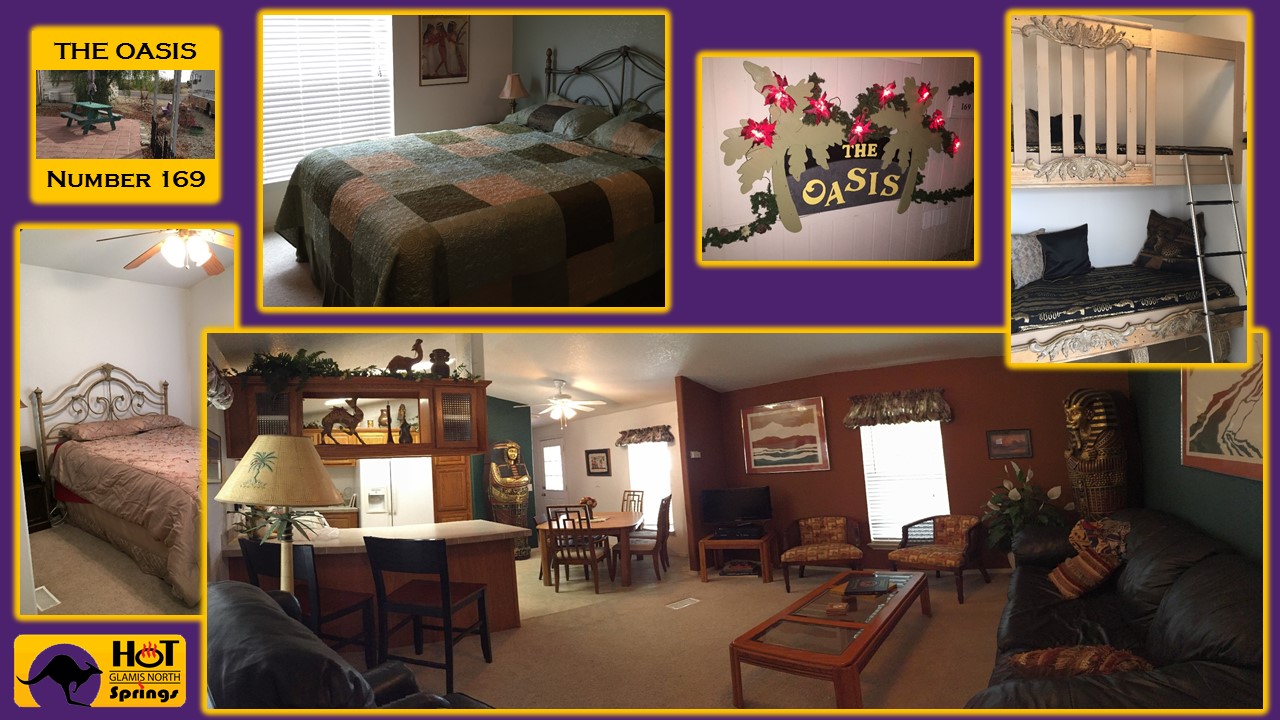 It's no mirage – this is YOUR Desert Oasis
A cool refuge from the dusty trail, this Egyptian inspired home has 2 bedrooms at opposite ends, each with their own full bath.
Plenty of room in the central living area makes this palace great for 2 couples. King Tut approved and ready for your Caravan.
Be sure your camels are packed with your own linens, pillows, towels and toys for your stay at the Oasis.
Large covered Patio area offers awesome

Views of the Chocolate Mountains

It has a covered Carport and rear picnic area

Master Bedroom (Queen)

Master Bath (Deluxe Tub/Shower)

Guest Bedroom (Queen)

Guest Bath (Tub/Shower)

Sofa Bed (Queen)

2 Youth Bunks (60″)

Full Kitchen

TV, DVD, VCR, WIFI

Heater, AC 

Covered Patio Area

Covered Carport

Reserve RV site 171 is next door for your friends

---
189 – Miners Cabin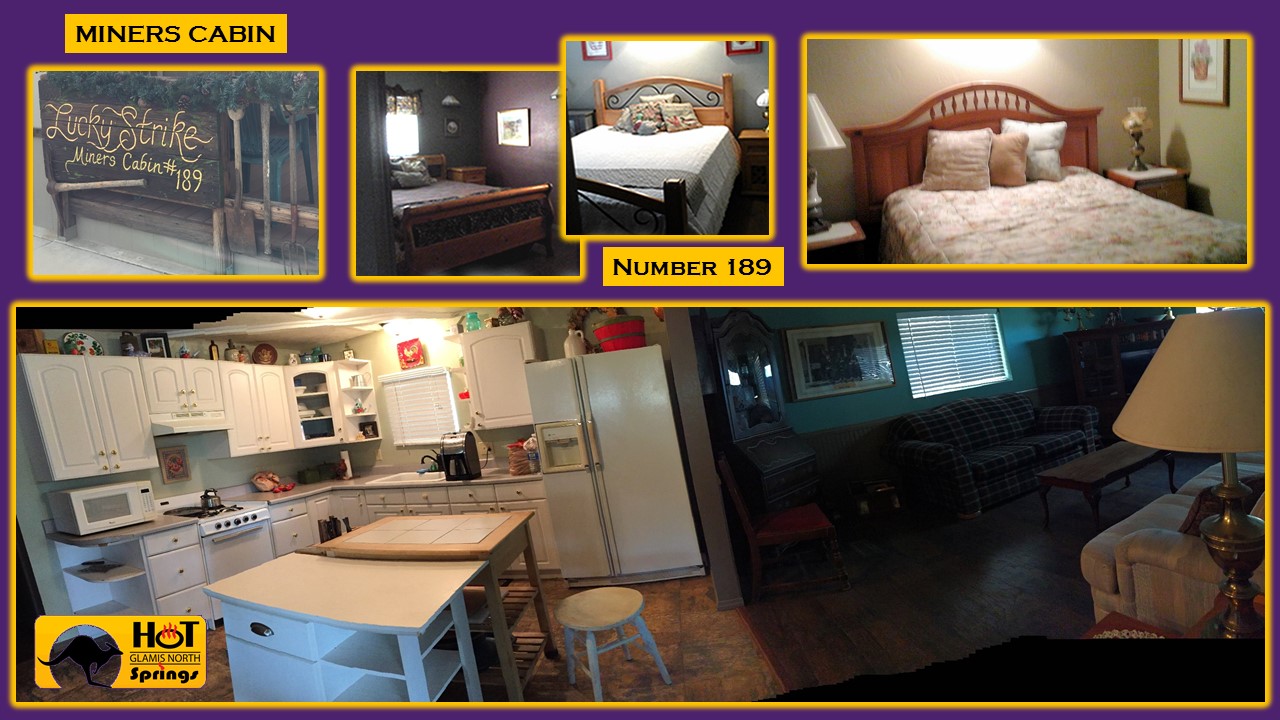 You've found a GOLD mine!
With 3 Bedrooms with Queen Size beds, two baths, a full kitchen and a large dining room, there's plenty of room for you and all your big miners, or minors, for that matter. There's even a hide-a-bed in the living area, so there's no problem sleeping 6-8 people. Be sure to pack your own Linens, Pillows, Towels and mining tools.
Large, attached covered parking area

Room for two vehicles or one vehicle and all your toys.

Cozy fire pit area that's great for s'mores and cool winter evening conversations.

Large parking area is only 200 feet away, so bring on your big trucks and toy trailers!

Have a big crowd but still like privacy? the hugely popular Miner's cabin is as perfect as it gets


---
194 – Bali Hai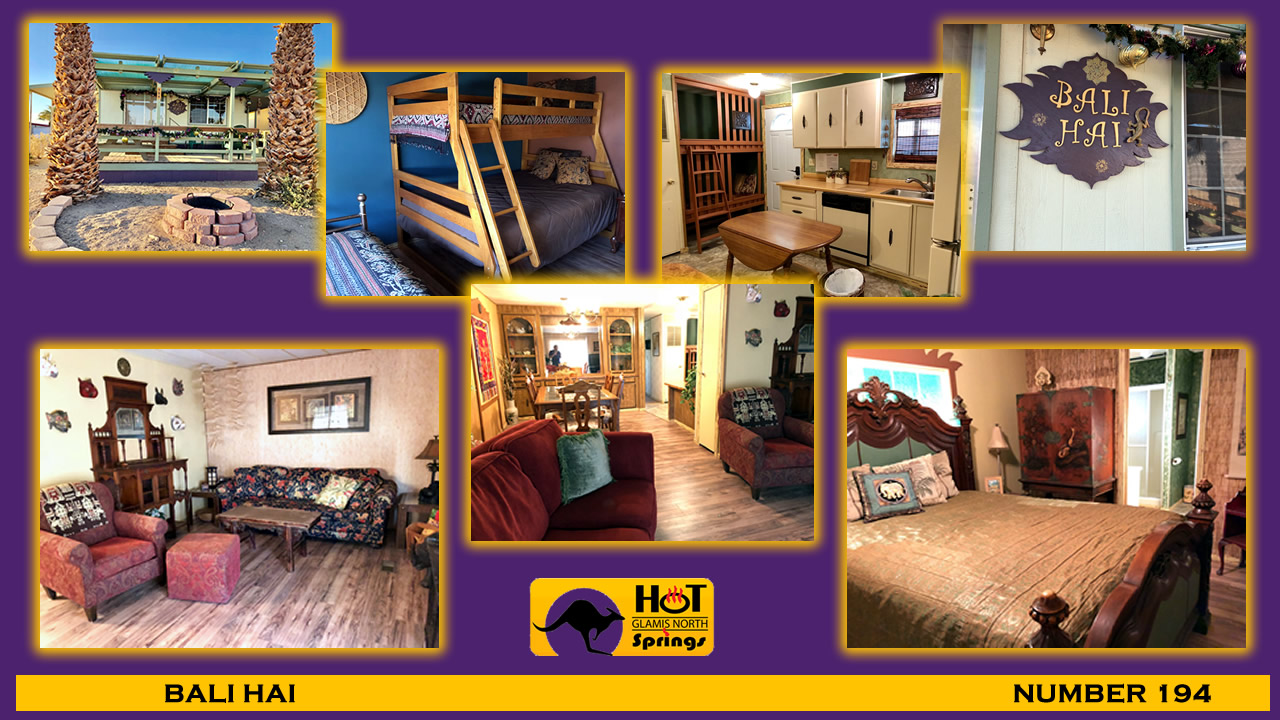 Enjoy the Tranquil Beauty of a Tropical Paradise
Palms sway in the balmy sunset, the Colorful exotic flowers and fabrics of the South Sea Islands delight. These are the richly woven textures that adorn your spacious 2 bedroom, 2 bath Bungalow that sleeps 8 Adults + 2 youth bunks. The kitchen is compact, but well-appointed, with a large Dining area. Centrally located with additional parking across from it, you will enjoy a shaded front Patio and 2 Covered Carports.
You complete this idyllic picture by bringing your own linens, pillows, towels and toys!
Master Bedroom (Queen)

Master Bath with Walk-in Shower

Guest Bedroom (Twin over Full, + additional twin)

Guest Bath (Tub/Shower)

Sofa Bed (Queen)

2 Youth Bunks (60″)

Full Kitchen

TV, WIFI, AC, Heater

Covered Porches and Carports

---
195 – Train Depot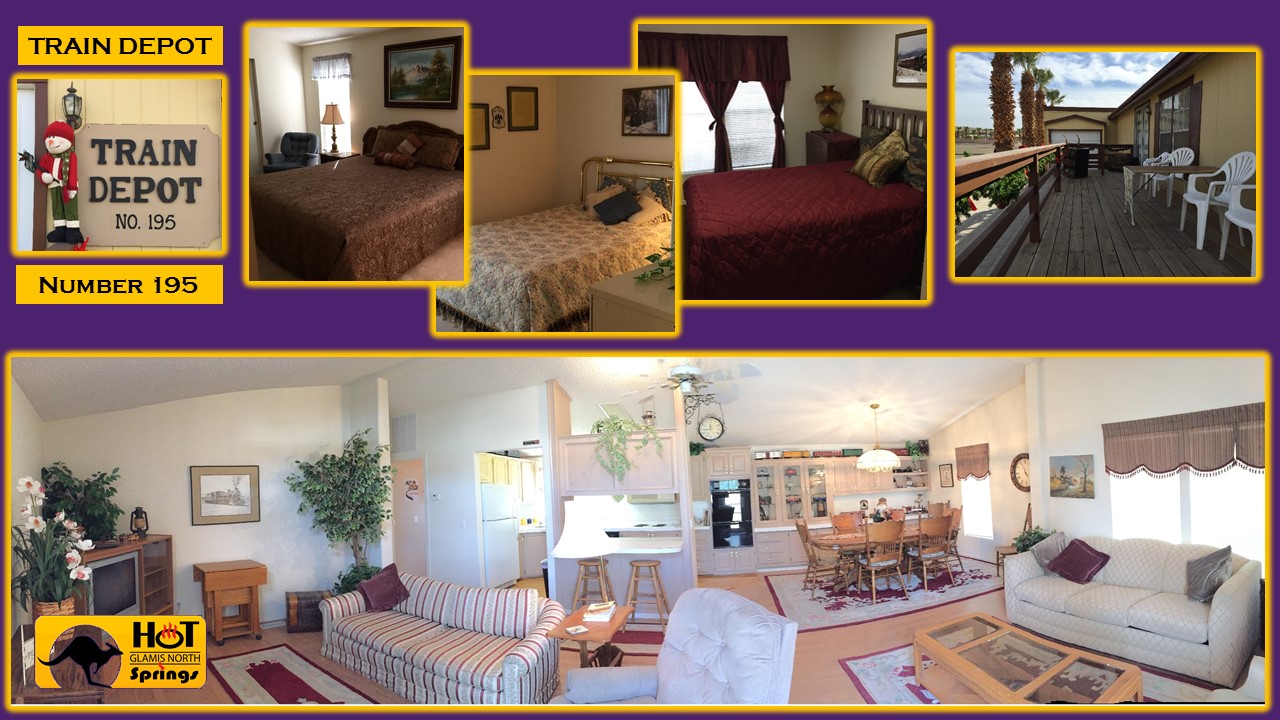 All Aboard!!!
Our Train House celebrates the steam locomotives of a bygone era. Your stay at "The Depot" will accommodate you and your fellow
travelers in style, as it is one of largest units available. It's a welcoming 3 bedroom, 2 bath plus bunk room that sleeps up to 10.
With a spacious Living and Dining room, and Open Kitchen (with Double ovens) you may prefer to entertain your group indoors
You'll also enjoy the beautiful Chocolate Mountain views from the front deck, and its Central location near the pools and Restaurant.
So it's Full Steam Ahead Pack your bags! Remember to bring your own linens, pillows,  towels and toys for a most comfortable stay. 
Train Master Bedroom (King)Train Master Bath with walk-in Shower

Presidential Suite (Queen

First Class Suite (Queen)

Platform 9 3/4 (2 Twin size Bunks)

Sofa Bed (Queen)

Guest Passenger Bath with Shower/Tub

Full Kitchen 

TV, AC, WIFI

Unlimited parking

---
196 – Pirate House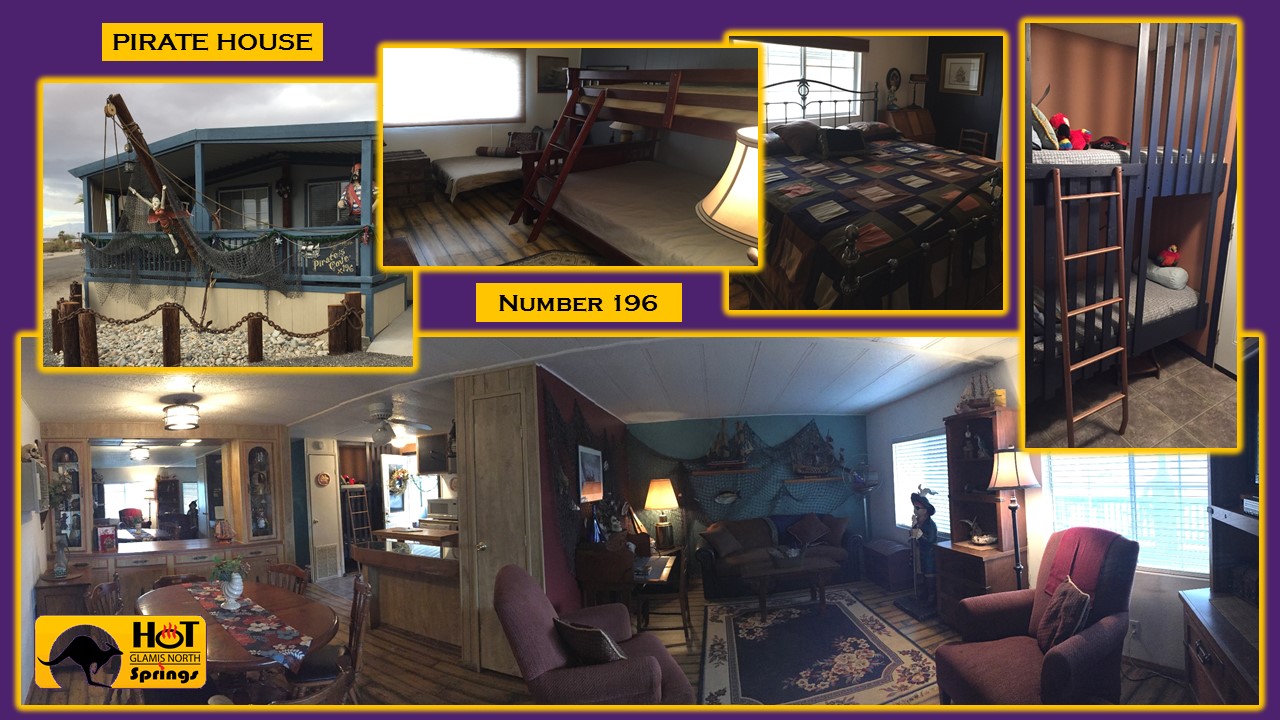 AHOY Me Hearties!
The Pirate House welcomes ye aboard me ship's quarters at the "Pirates Cove".
Avast Ye, she's lavishly appointed for your very own Cap'n and Crew with room aplenty for all yer booty when need be to batten down the hatches.
It boasts a Captain's Quarters fit for a pirate king, guest quarters for ye 1st mate and his buccaneers.
2 heads, 2 bunks for ye wee swabs, sleeping 8+.  Aye, an ample galley will keep seadogs and landlubbers alike in grog and salmagundi! So heave ho, bring yer own linens and towels to make her shipshape and lets weigh anchor and hoist the mizzen!
Captain's Quarters (King) & Head (Shower)

Guest Quarters (Twin over Double + Twin)

Guest Head (Tub/Shower)

Hide-a-bed Couch (Double)

2 Youth bunks (60")

Full Kitchen

TV

A/C

Carport & 2 covered porches (1 screened)

---
209 – Family Retreat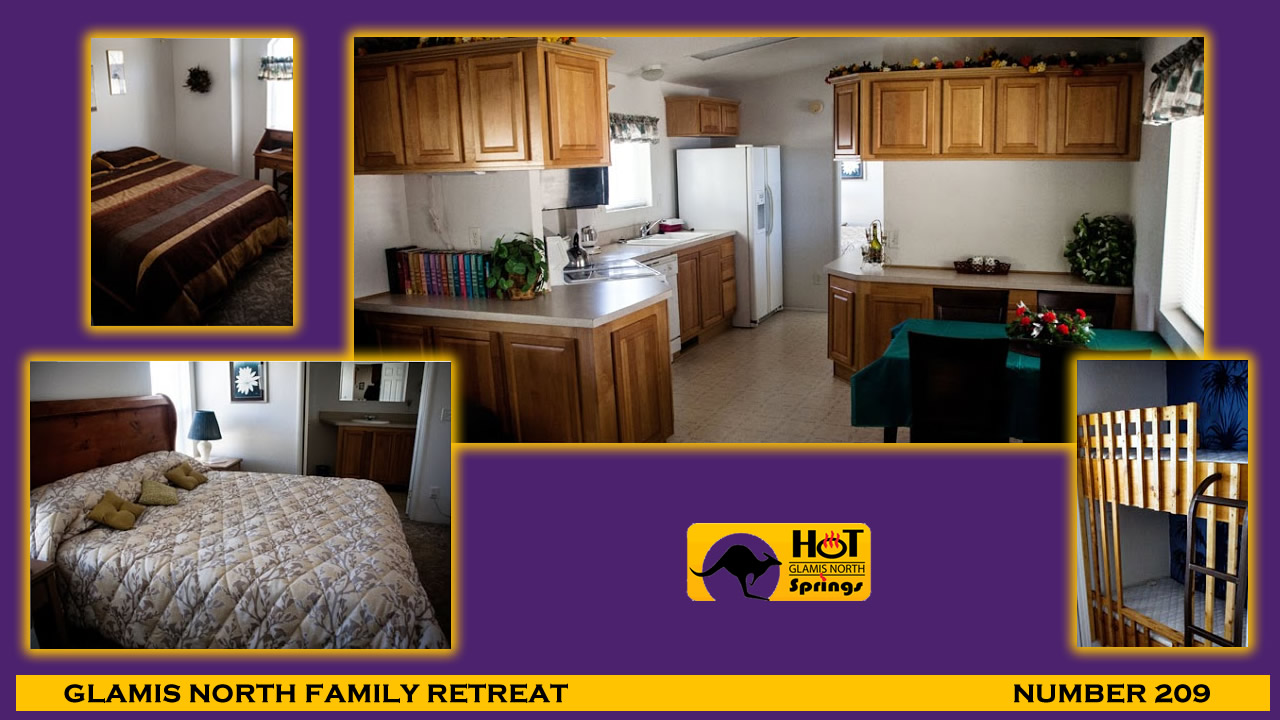 Come Together…right now…bring your family
Got family? Bring them to Glamis North for a weekend of fun and relaxation!

Sleep 6 comfortably


King bed on one end with private bath

Queen bed on opposite end with bath right next door


Hide-a-bed Couch (Double)

2 Youth bunks (60")

Full Kitchen

TV

A/C

Large porch with a lot of fun built in!


---
228 – Tumbleweed Hotel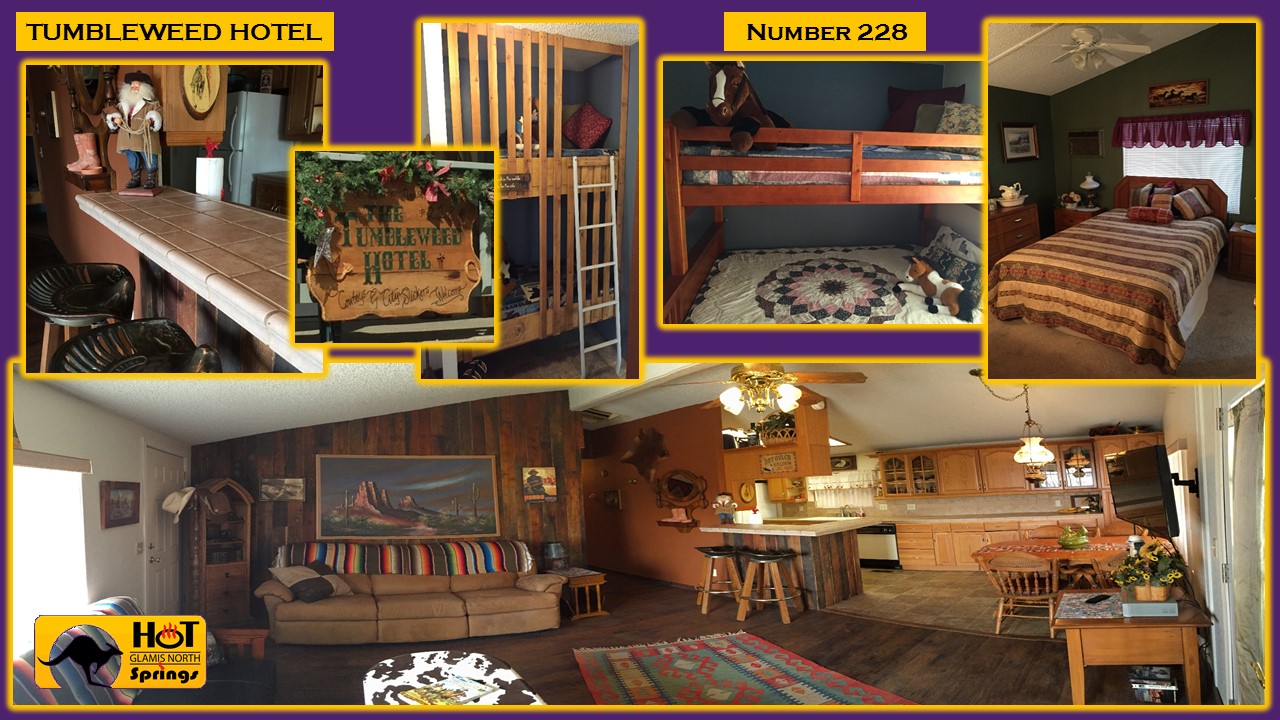 Get a Taste of the 'Ol Wild West
It's all things cowboy and country, complete with horses, saddles, ropes, boots and spurs. This cozy place to hang your hat after a long, dusty day on the trail has vintage touches, yet all the modern conveniences.
The well-appointed bunkhouse has 2 bedrooms, 2 baths, and sleeps 8+, besides ample space to rustle up grub and serve your ranch hands and young-uns.
Just add your own linens, towels, and toys and you are ready to ride!
Master Bedroom (Queen) & Bath (shower)

Guest Bedroom (Twin over Double + Twin)

Guest Bath (tub/shower)

2 Futon Sofas (Doubles)

2 Youth bunks (60")

Full kitchen

TV with VCR

Heater, A/C

Carport

2 covered porches

---
230 – Kokopeli Kottage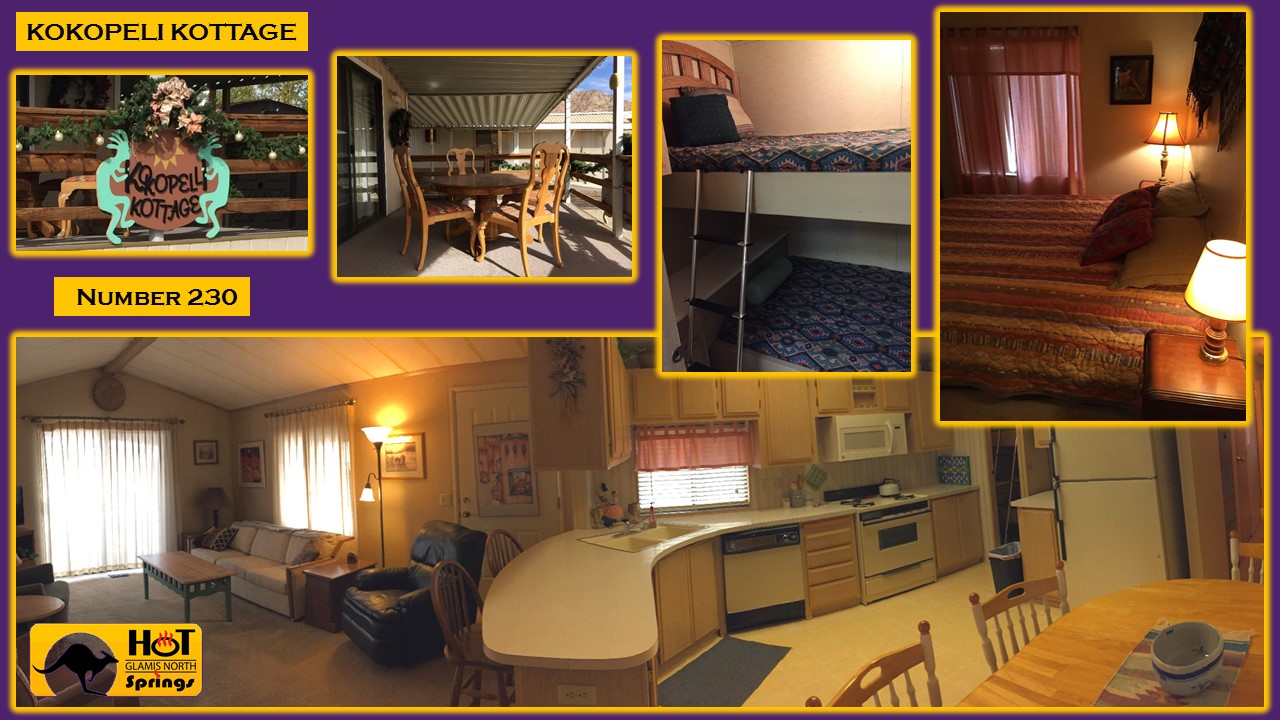 A Soft Way to End Each Day
As warm as the breeze blowing out of the Southwest, this comfortable abode is as inviting as the whimsical Kokopelli it is named for. With a Native American theme and the soft colors of the desert, our one bedroom, one bath with bunkroom sleeps 6. The kitchen is spacious and well  equipped. Enjoy a covered front deck overlooking your campfire and the desert beyond…
Don't forget to bring your linens, pillows, towels and toys, to make this little Kiva fit for your very own Tribe.
Master Bedroom (Queen)

Bath with Shower/Tub

2 Twin size bunks

Sofa

Bed (Queen)

Full Kitche

TV, AC, WIFI

Covered Deck 

Covered Carport

---
233 – Route 66 Motor Lodge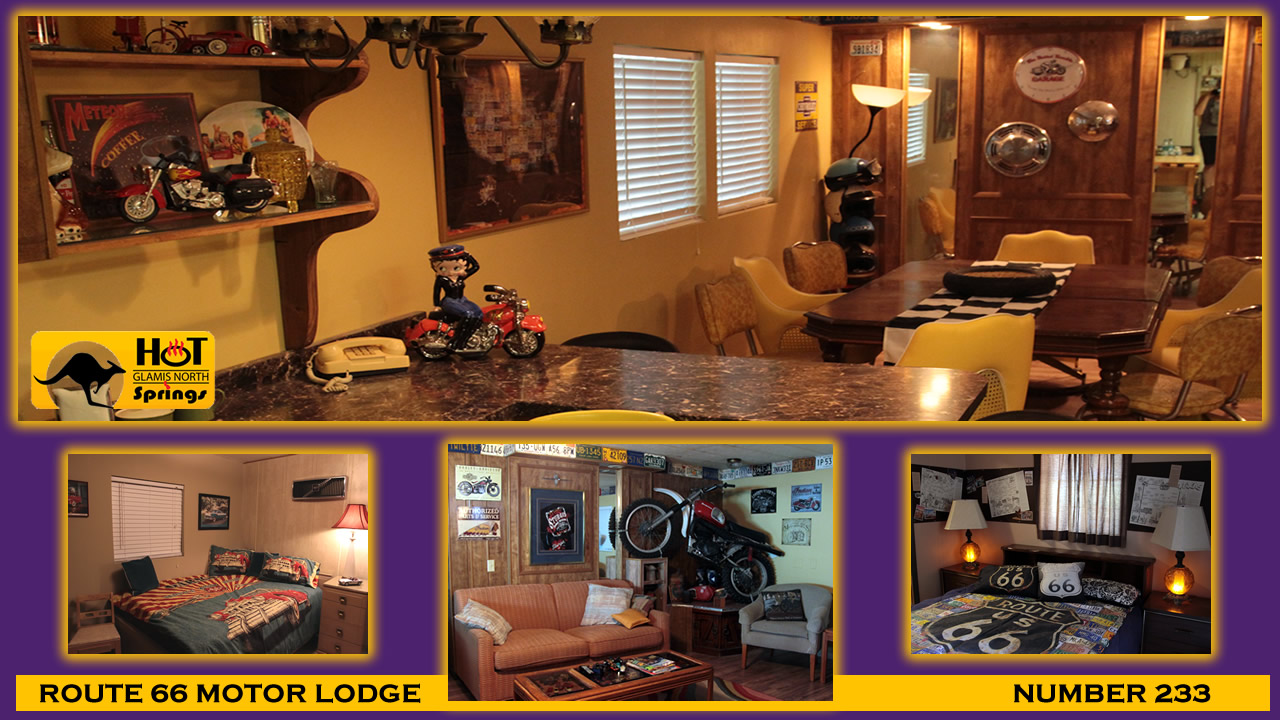 Cruise' in to the ROUTE 66 MOTOR LODGE!
We're just a bit off the Mother Road, but none-the-less our Motor Lodge pays homage to the nostalgia of Route 66 and it's icons: the Garages, Diners and Vehicles of it's heyday…

Motorheads will Enjoy the vintage Motorcycles In-house and the car & parts décor, as well as a touch of the 60's Rock & Roll to take you back.
This 3 bedroom, 2 pit-stop lodge sleeps 8, has a very spacious Full Kitchen covered front Porch and BBQ area (BYO) with dining tables inside and out for your whole pit crew… After a long day on the Roads, it's a comfortable layover for all your ready-to-relax travelers. Don't forget your own linens, towels, pillows and Toys to "Get Your Kicks at Route 66," Motor Lodge that is!
Route 66 master suite (Queen) 

Master bath

Deluxe tub and separate shower

60's Bedroom (Queen)

Cars Bedroom (Double

Guest Bath, Tub/Shower

Sofa Bed (Queen)

Full Kitchen

TV, VCR, DVD, WIFI 

AC/Heater

Covered Carport and Front Porch

---